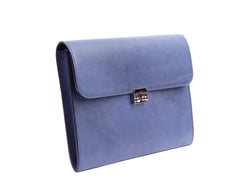 Click Shut Folio - Tempesti Brown
Made by Nichols is a progressive and contemporary brand where traditional craftsmanship meets modern shapes and combines with 21st century machinery.
The Click Shut Folio is a popular design. Light and elegant. Perfect for the professional and ambituous. 
We have chosen Tempesti St. Venere, a vegetable tanned leather with a fine subtle grain. The Marine colour will age beautifully.
Enjoy!